Trevor Newport Ministries
---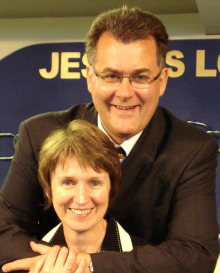 ---
Partnership
It is often said that alone we can accomplish little, but together we can accomplish much, much more.
As Trevor ministers all across the world, seeing thousands of lives touched by God every year, we would like to give you the opportunity to be a part of this phenomenal ministry.
We would like to offer you the chance to partner with Trevor financially, support his work, and sow a seed into what God is doing in this amazing global ministry.
Partnering with us is easy, simply contact us and let us know you are interested. We will send you information about how you can give a monthly gift to the ministry. In return, you will receive a newsletter, keeping you informed about what Trevor has been doing in the Kingdom of God, and access to some exclusive content and messages from Trevor especially made for his partners.
Alternatively, if you would like to make a one off donation, click on the 'donate' button to donate quickly and safely via PayPal. We also accept cheques (made payable to Trevor Newport) which can be sent to the address
here
We believe that every seed sown into good ground will produce a harvest, and we pray that you will receive a full one hundred fold return on your seed as promised by scripture.